Page 2 of 18
About OptiMedis and our projects – Germany

Innovation in the "Gesunder Werra-Meißner-Kreis": interprofessional health guides advise residents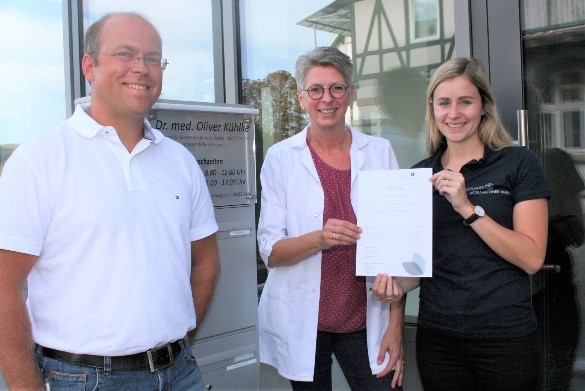 Marianne König (right) from the healthcare management division of the Gesunder Werra-Meißner-Kreis GmbH, hands over a health guide certificate to Anja Küllmer (centre), medical assistant at the surgery of Dr Oliver Kühlke (left), after successfully participating in the new advanced training. Photo: Gesunder Werra-Meißner-Kreis The residents of a rural region in North Hesse now benefit from accessible, low-threshold, and free advice on health and the promotion of health. Within the integrated health network of the Gesunder Werra-Meißner-Kreis ("Healthy Werra-Meißner District"), so-called health guides have been undergoing training since August. They primarily give preventative and motivating advice, but also support people who are already ill.
"We have developed innovative, extra-occupational advanced training that we carry out together with experts from various specialised fields. Twelve health guides have already begun their work on the ground and eight further participants will soon complete their training," says Dr Helmut Hildebrandt, Chief Executive of the regional man-agement company Gesunder Werra-Meißner-Kreis GmbH.
Health guides come from health-related occupations
In order to establish qualified contact points for initial questions surrounding health across the entire region, spe-cialists are recruited from all professions within the care system for further training. Medical assistants from doc-tor's surgeries, pharmaceutical technicians from pharmacies, nurses in old people's homes or home healthcare, therapists and fitness trainers as well as occupational categories from physiotherapy, logotherapy and ergotherapy practices, nutritionists and midwives.
Marianne König from the healthcare management division of Gesunder Werra-Meißner-Kreis GmbH explains how health guides work: "They carry out advice sessions on top of their regular activities on site in surgeries or organi-sations. In sessions lasting around 30 minutes, they inform insured individuals about health-promoting measures, inquire about their needs for support, agree on health goals, and communicate relevant offerings." Furthermore, they act as the point of contact for participation in the specific provision of care by the Gesunder Werra-Meißner-Kreis and in so doing, are an important link between medical and therapeutic healthcare and this additional health and care management.
The work of Gesunder Werra-Meißner-Kreis is based on a "Shared Savings Agreements" with the health insurance company BKK Werra-Meissner. The partners concluded a long-term, performance-related agreement with partial assumption of budget responsibility in accordance with § 140 a SGB V (German Social Code). The region has 100,715 inhabitants. BKK Werra-Meißner's share of those with statutory health insurance is almost 25%, and the company has a great interest in improving and securing regional care.