Page 15 of 18
The BigMedilytics project involves around 100 organisations at its first event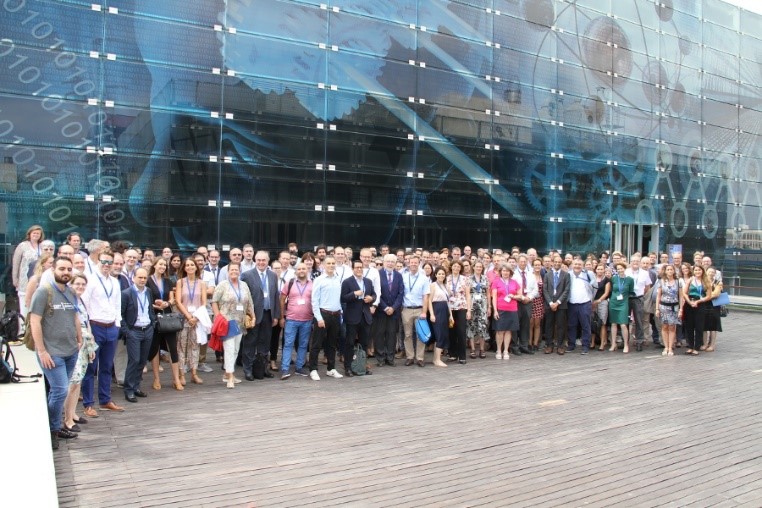 The first BigMedilytics event was attended by representatives from 100 organisations. Photo: BigMedilyticsThe BigMedilytics project, in which OptiMedis is involved, organised its first workshop in Valencia (Spain) under the title "Big Data: Fuelling the transformation of Europe's Healthcare sector" on the 4th and 5th of September 2019 in the Ciudad Politécnica de Valencia. Organized by INCLIVA, Philips, and ITI, the event gathered more than 160 attendees from around 100 organisations representing healthcare providers, health technology companies, payers, research institutes and academia from across Europe.
The event offered a complete overview of the three different themes (Population Health and Chronic Diseases, Oncology, and Industrialization of Healthcare Services) and the 12 pilots. It was structured to gather valuable feedback from the External Exploitation Partners (EEPs) for the project to ensure the BigMedilytics project transfers solutions that are useful and relevant to Europe's healthcare sector at large. Attendees could know the different solutions presented by the 12 pilots (Comorbidities, Kidney disease, Diabetes, COPD/Asthma, Heart failure, Prostate cancer, Lung cancer, Breast cancer, Stroke management, Sepsis management, Asset management, and Radiology workflows) through the demonstrations and posters shown in the hall of the venue.
All the presentations of the event can be found here.
With 35 partners from 12 countries, the EU project "BigMedilytics" is implementing pilot projects for the application of artificial intelligence in the fields of public health and chronic diseases, oncology, and process optimisation in health care. Under this project, OptiMedis is working together with the INCLIVA Foundation in Valencia and with Philips in Eindhoven to develop and implement better methods for predicting patient utilisation behaviour.