Page 2 of 15
About OptiMedis and our projects
Promoting health and connecting sectors: "Healthy Schwalm-Eder District+" breaks ground!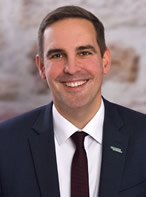 Mario Heußner, Chairman of the BKK B. Braun Aesculap. Photo: BKK. B. Braun Aesculap Northern Hesse is developing into a pioneer for new care solutions. After success in the Werra-Meißner district, neighboring Schwalm-Eder district is also implementing OptiMedis' regional integrated care model. This is supported by a contract between BKK B. Braun Aesculap and "Gesunder Schwalm-Eder-Kreis+ GmbH", of which OptiMedis is a shareholder.
Anna Maria Braun, Chairwoman of the B. Braun Melsungen AG. Photo: B. Braun Melsungen AG"The innovative model implemented in the Kinzigtal region and, for some time now, in our neighbouring Werra-Meißner district in northern Hessen has convinced us, and we trust OptiMedis' many years of expertise. We really want to make a difference in healthcare provision and promotion in the region," explains Mario Heußner, Chairman of the Board of BKK B. Braun Aesculap.
For Anna Maria Braun, CEO of B. Braun Melsungen AG, the issues of maintaining and promoting the health of employees and their families are important components of the company's philosophy. "The new offer helps to protect and improve the health of our employees – a vision that has always driven B. Braun. We particularly welcome the app roach of using digital solutions to reach people in rural areas.
This way, not only people in Melsungen and the surrounding area will be able to use the network's health services, but gradually also insured people and employees beyond the region and the Schwalm-Eder district," she explains. The "+" in the name also reflects this ambition.
B. Braun leads the way: Regional companies should invest more in health
Justin Rautenberg, CEO of the "Gesunder Schwalm-Eder-Kreis+ GmbH". Photo: OptiMedisOptiMedis' Chairman of the Board Dr. h. c. Helmut Hildebrandt views B. Braun's commitment as an example for other regions: "After a certain start-up period, healthcare networks such as the one we are setting up pay for themselves through their share of the relative savings that result from more efficient and coordinated care. Ultimately, by promoting health and detecting diseases early or mitigating their progression, the cost of medical care decreases in the long run. Regional companies can play a substantial role in seed funding, making a large difference in care for their region and their people."
Justin Rautenberg, Managing Director of "Gesunder Schwalm-Eder-Kreis+ GmbH", explains that policyholders will be able to take advantage of the network's first offerings as early as the beginning of 2021. "We are currently setting up the office, building a team, and establishing contacts with medical and social institutions. In addition to classic healthcare offerings, we plan to increasingly rely on digital solutions in the future." In order to enable as many insured persons from the Schwalm-Eder district as possible to benefit from the advantages of the health network, contracts will be concluded with additional health insurance companies in the region.
Click here to visit the Healthy Schwalm-Eder District website!