Page 2 of 19
About OptiMedis and our projects
OptiMedis and Belgian partner found a joint venture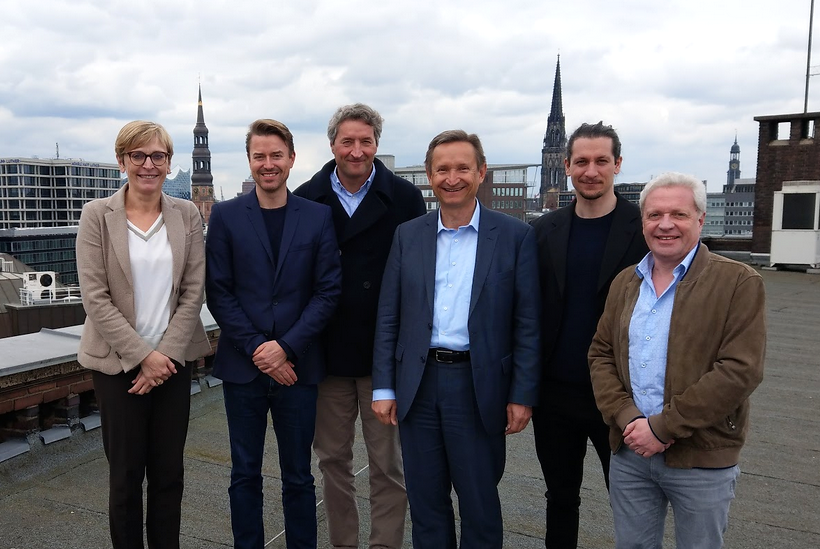 Joint Venture Meeting in Hamburg (from left to right): Karin Genoe (OptiMedis Belgium), Dr Oliver Gröne, Jurriaan Pröpper (OptiMedis Netherland), Dr. h. c.Helmut Hildebrandt, Dr Alexander Pimperl and Frank Ponsaert (OptiMedis Belgium). Photo: OptiMedisThe OptiMedis family welcomes a new European member: at the end of 2018, OptiMedis and a Belgian partner founded the OptiMedis BE BVBA company. In addition to OptiMedis, shareholders include Health as a Service BVBA as well as Karin Genoe and Frank Ponsaert, who both also share the management responsibilities. They are responsible for local implementation; OptiMedis provides support with its expertise and data analyses.
The new company is headquartered in Brussels within the locations of the VIAS Institute. Activities will focus on the development and management of integrated digital healthcare networks in various Belgian regions, with a special focus on care.
The Belgian partner Karin Genoe has over 20 years of professional experience in consulting and healthcare. She has held management positions at the Flanders Red Cross and the University Hospital in Leuven; then, she took over as head of the – up until then public – Belgian Road Safety Institute and accompanied the company's transition into a privatised organisation to the now called VIAS Institute. The second face behind the new joint venture, Frank Ponsaert, has a career of nearly 30 years in the software services industry, looks back at a very active political career, for example as advisor to the Belgian Minister of Public Health. He is seen as a pioneer in the implementation of digital solutions in healthcare and he is also expert mobile health to the European Commission DG Connect.
Health as a Service (Hhaas) BVBA is a young Belgian company, focussing on added value created through consolidation of medical patient records. They aim at using new technology and international standards, so their solutions are useable at an international scale. Hhaas' vision is to create this added value in order to increase the quality of care for the individual patients.
OptiMedis BE has taken a successful start. The first contracts have already been signed for two municipalities; a third is set to join them shortly. They work together with a local investor, more information and formal announcement on that, to come shortly.
If you have any questions please contact Helmut Hildebrandt, Chairman of the Board of OptiMedis AG (This email address is being protected from spambots. You need JavaScript enabled to view it., +49 40 22621149 0), or Frank Ponsaert, Executive Director of OptiMedis BE BVBA (This email address is being protected from spambots. You need JavaScript enabled to view it., +32 479 42 96 38).
Further information (in Dutch): www.optimedis.com/networks-and-projects/belgium