Page 8 of 19
Care home residents in hospitals – which cases can be avoided?
Which hospital admissions of care home residents can generally be avoided and what sensible measures can be taken to reduce the number of admissions? The University of Witten/Herdecke and OptiMedis AG want to explore this issue together with further partners in a project sponsored by the Innovation Fund.
The background is that the increase in inpatient treatments also drives up the number of hospital stays and the costs for the statutory health insurers. At the same time, care-dependent individuals often experience stress from visits to a clinic. It's quite difficult to determine which hospital admissions are actually necessary. There are already lists available specifying which hospitalisations can be avoided, so-called outpatient-sensitive hospitalisations (ASK); however, these should be understood as mere conceptional frameworks to be adjusted to various care settings.
Development of a list of care home-sensitive hospitalisations
Within the "Needs-oriented care of care home residents by reducing care home-sensitive hospitalisations" project, the project partners want to clear up these questions and work out a list of care home-sensitive hospitalisations (PSK) as well as make an estimation of the respective prevention potential. Another objective lies in the simultaneous identification of measures which could reduce the number of PSKs and calculating the savings potentials for the statutory health care system.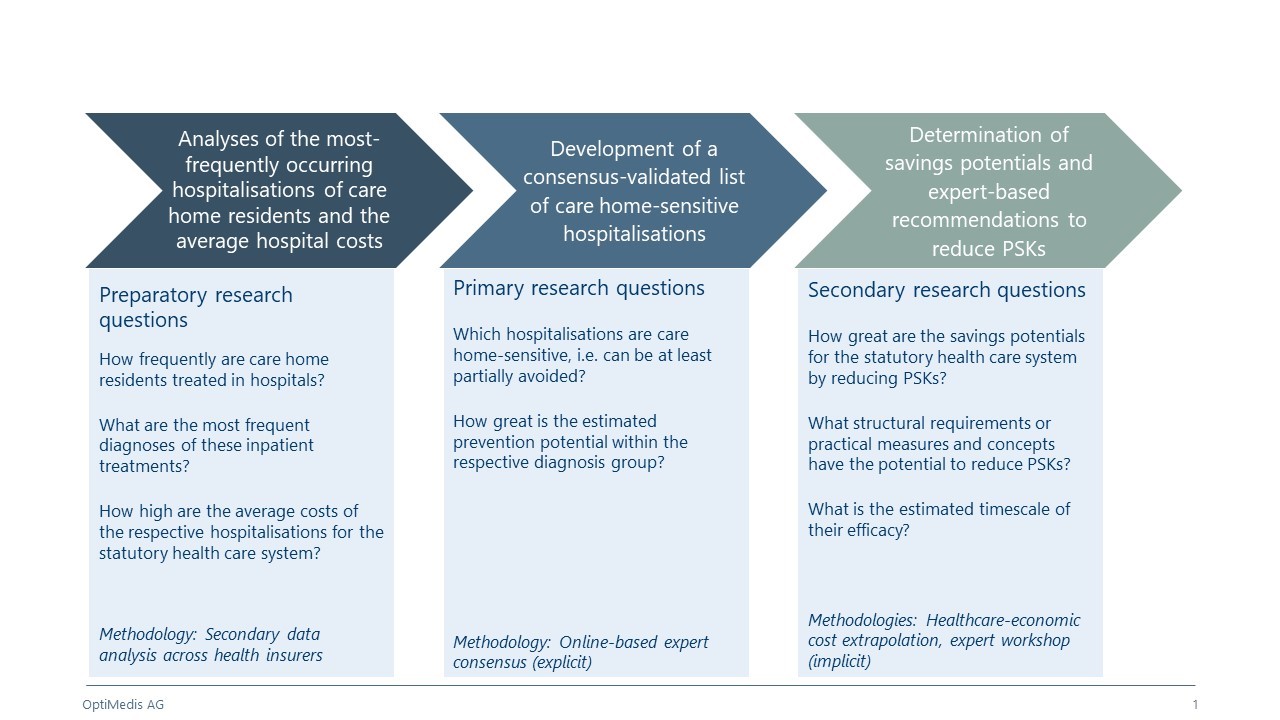 Schematic overview of the process steps including the corresponding research questions and methods of the planned PSK research project. Illustration: OptiMedis
The consortium leader is Prof. Sabine Bohnet-Joschko, Endowed Professor for Management and Innovation in Healthcare at the University of Witten/Herdecke. OptiMedis develops the methodology and will analyse the health care data of various health insurers in Hamburg, Baden-Wuerttemberg, and the Werra-Meißner District. Further experts involved in the project are the Research & Innovation Group at the Evangelische Hochschule Freiburg e.V. as well as Pflege e.V.
If you have any questions, please contact Timo Schulte, Head of Health Data Analytics and IT OptiMedis AG (This email address is being protected from spambots. You need JavaScript enabled to view it., 0049 (0) 40 22621149 0).